Halverson Northwest named Top Ranked Law Firm
January 17, 2013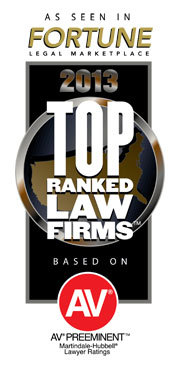 Halverson Northwest Law Group, PC (formerly Velikanje Halverson) has been named one of the top nationally ranked law firms in the U.S. by Fortune magazine. The "2013 Top Ranked Law Firms" list will appear in the January 2013 issue of Fortune magazine's "2013 Investor's Guide," as well as The American Lawyer and Corporate Counsel.
The list was compiled by LexisNexis Martindale-Hubbell, a national online directory of attorneys and law firms. Martindale-Hubbell rates attorneys using peer reviews—confidential reviews from lawyers and members of the judiciary about lawyers of whom they have professional knowledge.
To be eligible, a law firm must have at least 10 attorneys—with 33% of the attorneys achieving an AV® Preeminent ™ rating. The AV® Preeminent ™ rating is the highest honor available and reflects expertise, experience, integrity and overall professional excellence. Fewer than 1% of all firms rated by Martindale-Hubbell achieve Top Ranked Law Firm honors in the nation each year. A full list of the Top Ranked Law Firms is available at http://www.martindale.com/Press/Fortune-Mag-West.aspx
Share this article
RSS Feed
[
?
]